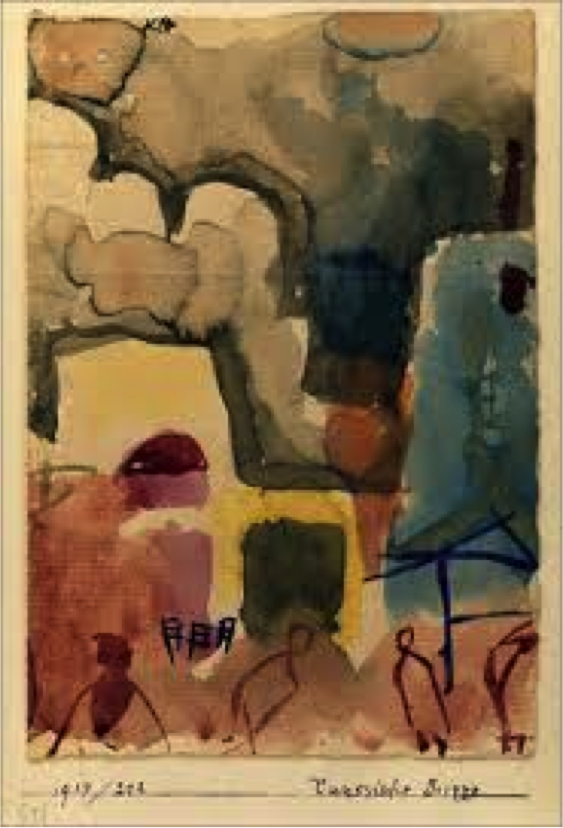 Tunisian Sketch
Paul Klee, German 1879-1940
Watercolor
Zentrum Paul Klee, Bern, Switzerland
Gift of Livia Klee
Metaphysics
For a while after he died
my father didn't seem to
discern dream visitors, but
I was amazed nonetheless
to witness his swift and
serene rejuvenation. From
time to time I'd find him
dining outdoors in beautiful
locales, a multicolored
grain on his plate I'd
never seen elsewhere.
Yes, laughed the server,
It's a staple here; a sort
of national dish, I guess,
like potatoes in Ireland,
pasta in Italy, cous cous
in Morocco, rice in Japan
or Madagascar. We can't
get enough of it, and it's
remarkably nutritious.
What's it's called? I asked.
She replied, metaphysics.
First published in Poetry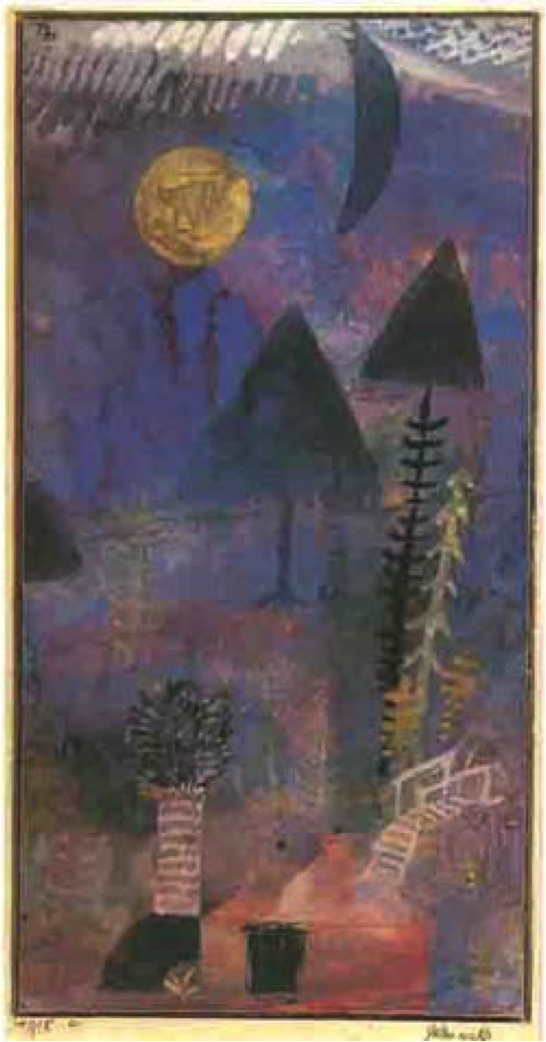 Garden at Night, Moon- and Shadow-Mushrooms,
Paul Klee, German (1879-1940)
Watercolor, 1918
Collection of Ernst Beyeler, Basle
The Search

But then the moon comes
up after all and with a glow bright
enough to wake you through
the bedroom curtains,
the night outside,
one vast luminous
room beside which indoor rooms seem to
belong to a preliminary, rudimentary
dimension
and her there shining—
mother daughter friend anima mundi—
so still and low it's almost as though
you hadn't broken every vow you ever
made in the wayside tabernacles of
the night behind the forehead.
Go back to bed,
close your eyes,
resolved this time to get all the way
to the other side of the dark, find
a place to set up shop, work without
letup by the light love supplies, rid
at last of mental fuss.
Soon you're
walking down a deserted road through
a nighttime countryside, wondering
if one of the locals is acquainted with
the lesser-known lunar writings.
Houses
are few, everyone's asleep,
the air suffused with a beautiful half-light
whose source you can't place. You're
strangely unafraid and in no hurry.
Included in Best Spiritual Writing 2012,
edited by Philip Zaleski